8th Annual Art Around the Box Gala and Auction, Saturday, South Farms, Morris, CT,March 23, 3 P.M.- 7 P.M.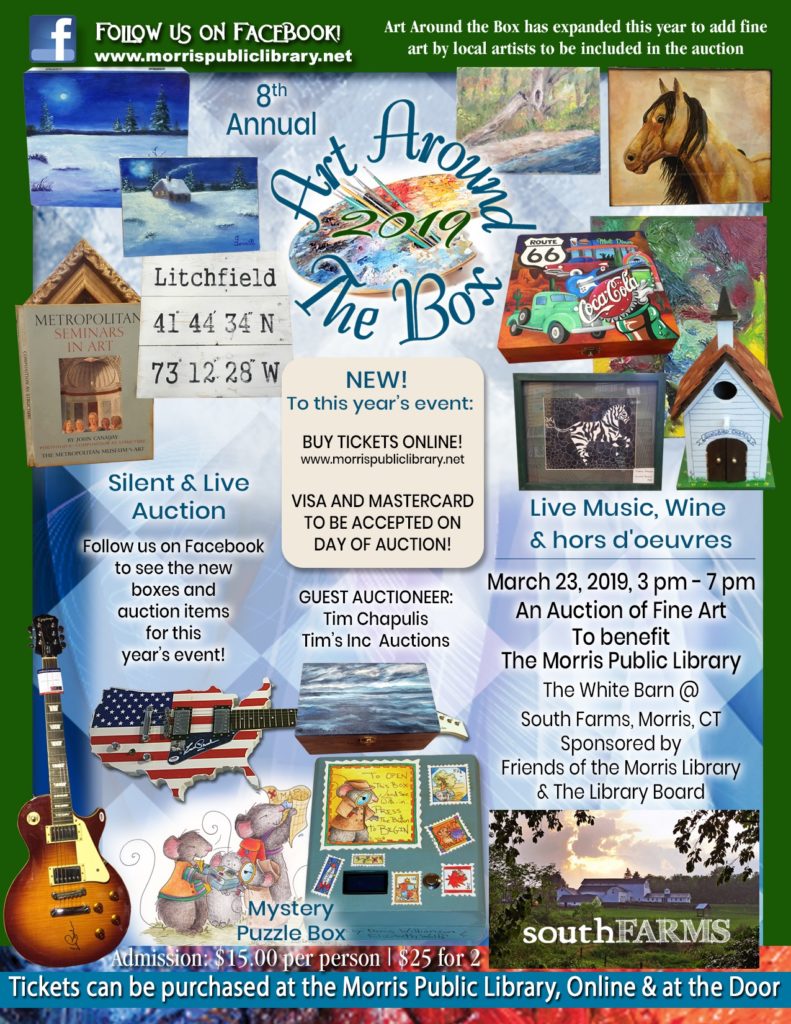 Morris Public Library's 8th Annual Art Around the Box, White Barn, South Farms, Morris, CT, Saturday, March 23, 2019, 3PM-7 PM.
The Friends and the Board of Directors of the Morris Public Library will host their 8th Annual "ART AROUND THE BOX" gala event and auction of fine art, decorated boxes, original artwork. The event will take place at the White Barn, South Farms, Morris, CT, on Saturday, March 23, from 3 PM-7 PM.
This year's Art Around the Box will also feature new auction entries: original photography, various antiques, and unique collector items. Popular gift baskets, the famous Mystery Puzzle Box, and gift certificates to local vendors will also be auctioned at the gala.
Our guest auctioneer, Timothy Chapulis, of Tim's Auctions, Inc, will guide the audience through the precious artwork and other special auction items.
The tickets to the event are only $15.00, and are now available for purchase online at https://www.eventbrite.com/e/8th-annual-art-around-the-box-gala-and-auction-2019-tickets-55361324211, at the Library (coming soon) and at the door!
Wine, refreshments and music will be offered at the event, and are included with the purchase of your ticket.
New this year – we are accepting credit/debit cards at the event.
All proceeds will benefit the Library.
For information and updates: 860-567-7440, https://morrispubliclibrary.net/friends-and-fundraising/, and Library's Facebook, Instagram, and Twitter pages.