"Promised Land", Discussion and Signing with Martin Fletcher, an author and former NBC correspondent, at the Morris Public Library, Tuesday, February 26, at 6:30 pm.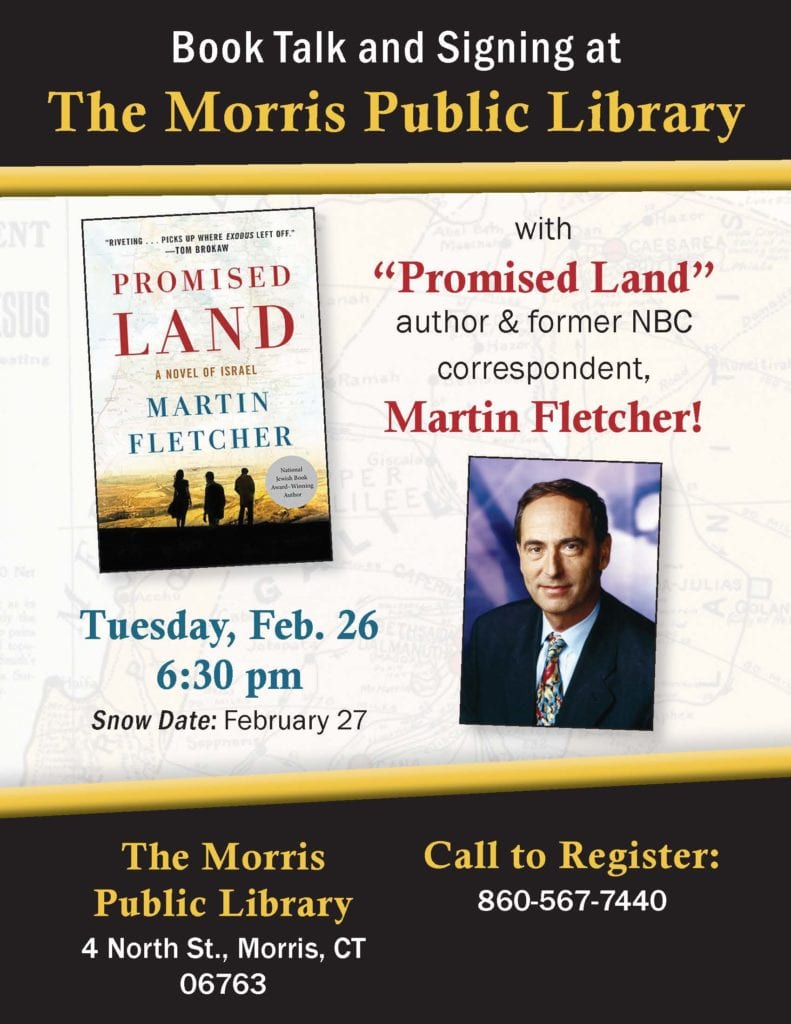 Martin Fletcher, an author and former NBC News' Middle East correspondent, will offer a presentation of his newest book "Promised Land" at the Morris Public Library (4 North Street, Morris, CT), on Tuesday, February 26, at 6:30 pm (snow date – February 27).
Promised Land is a sweeping saga of two brothers and the woman they love, a devastating love triangle set to the tumultuous founding of Israel.
The story begins when fourteen-year-old Peter is sent west to America to escape the growing horror of Nazi Germany. But his younger brother Arie and their entire family are sent east, to the Nazi death camps. Only Arie returns.
Mr. Fletcher, an NBC correspondent in Israel for 26 years, and a bureau chief for 15 year, has won almost every award in TV journalism, including the du Pont, known as the TV Pulitzer, five Overseas Press Club awards, the Edward R. Murrow award for excellence several times, and many other awards, including five Emmys. He began his journalism career with the BBC in London, continued as a cameraman with Visnews, where he won an award from the Royal Society of Television Cameraman of the Year, and has lived in Africa, Europe and the Middle East, and worked in almost every country on the planet.
Anderson Cooper called him "for several decades the gold standard of war correspondents."
Martin retired from NBC in January 2010 but still works for them on contract as a Special Correspondent.
He is now devoting himself to books. His other novels are "The War Reporter", "Jacob's Oath", "The List", "Walking Israel", and "Breaking News". The author's website is www.matinfletcher.net
To register for this FREE event with the Library: 860-567-7440