ONLINE EVENT – "How To Organize Your Home the Marie Kondo Way", with certified consultant Christine Thorn, Thursday, May 14, at 6:30 pm.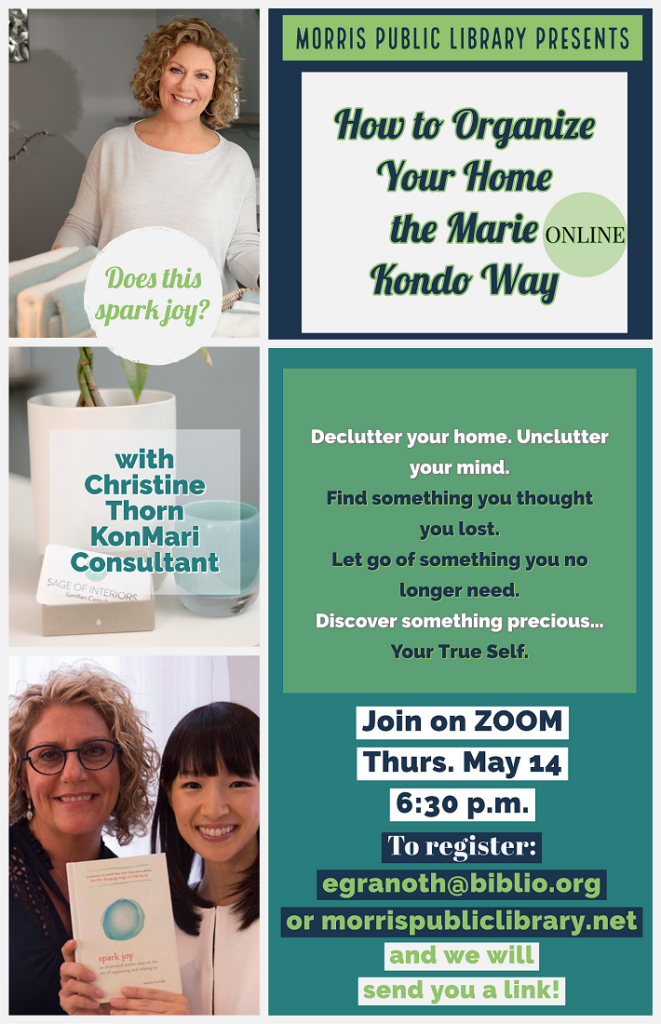 Certified KonMari consultant Christine Thorn, of Sage Interiors, will present "How to Organize Your Home the Marie Kondo Way" with the Morris Public Library Online, on Zoom, on Thursday, May 14, at 6:30 p.m.
To register for the FREE event with the Library: https://morrispubliclibrary.net/library-calendar-event-registration/ or egranoth@biblio.org and we will send you a link to join.
Christine will speak about life-changing benefits of the KonMari's category-by-category system of tidying, will focus on the six steps of this Japanese method, and will attempt to answer the fundamental KonMari question: Does this spark joy?
The speaker will provide illustrations of transformations achieved in people's homes and the positive impact of those transformations. A question-and-answer period will follow.
Being inspired by Kondo's best-selling book, "The Life-Changing Magic of Tidying Up," and the 2019 Kondo's hit Netflix series, Christine Thorn completed the studies with Marie Kondo in New York City and earned her certification as a consultant.
Thorn's background is helping people with their body, mind, and spirit as a Chiropractor, Reflexologist, Reiki Master Practitioner, and Acupuncturist.