UPDATED, NEW SPEAKERS – Detective Who Arrested Louis The Coin And Journalist Who Co-Authored Coin's Memoir To Present at Morris Public Library Online, Oct. 6, 2020, at 6:30 pm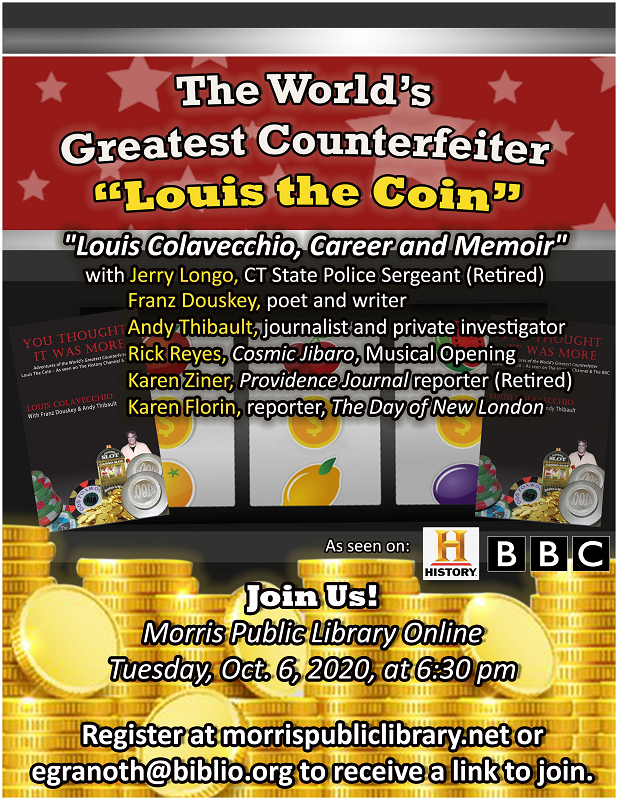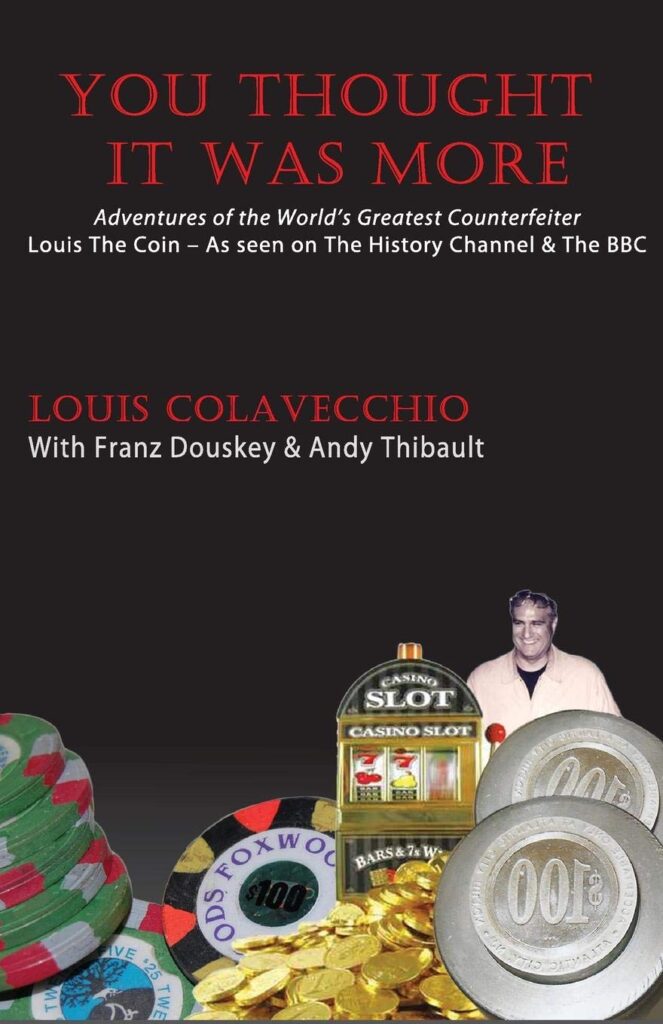 Connecticut State Police Detective Sergeant (Retired) Jerry Longo, journalist Andy Thibault, poet and writer Franz Douskey, reporter (Retired) Karen Ziner, and reporter Karen Florin will discuss the career and memoir of Louis the Coin Colavecchio Tuesday, Oct. 6, 2020 at 6:30 p.m. at the Morris Public Library Online, Morris, CT
Musical opening via Rick Reyes Music.
https://www.youtube.com/watch?v=-k7B-8qlfNs&feature=youtu.be
CLICK HERE to register for the event and receive a link to join or fill out the registration form at https://morrispubliclibrary.net/library-calendar-event-registration/
Colavecchio had pleaded guilty to creating counterfeit $100 bills at his apartment in Pawtucket, RI.
Longo had arrested Colavecchio in a prior case in which The Coin had manufactured and used undetectable $100 slot machine tokens at casinos in Connecticut, New Jersey and Nevada. They subsequently became friends and appeared together at Gateway Community College in New Haven and Western Connecticut State University in Danbury.
Thibault, city editor for the Republican-American in Waterbury and a private investigator, collaborated with Colavecchio and Gateway Professor Franz Douskey to write the memoir, "You Thought It Was More – Adventures of the World's Greatest Counterfeiter, Louis The Coin." Longo wrote the book's introduction. He is now a senior investigator for a major casino and chairman of the Connecticut State Police Museum in Meriden. A portion of royalties from the memoir is being donated to the restoration of a 1941 police cruiser at the museum. Direct donations can be mailed to: CSPAAAMEC P.O. Box 1945 Meriden, CT 06450-0899 Notation: Garage or 41 project.
Karen Lee Ziner is a former longtime general assignment reporter at The Providence Journal. She is a graduate of The George Washington University. The pandemic has stalled two of her passions: world travel, and her volunteer "cuddler" position at the Women & Infants Hospital neo-natal ICU. Meanwhile, she is writing short stories. A Massachusetts native, she now considers Rhode Island her home. 
Karen Florin covers courts for The Day Publishing in New London, CT. She is a Co-Chair of state Judicial-Media Committee.
Rick Reyes, a self-taught guitarist, songwriter known for poetic lyrics, and leader of the Latin Rock band The Cosmic Jibaros, is a folk hero of Connecticut's independent music scene.
In Puerto Rico, where Reyes grew up between early years in Bridgeport and his return to the Park City as a teenager, los jibaros possess the romantic individualism of American mountain men from an earlier era and are known for having a simple, honest connection to the earth, a strong work ethic, and wonderful music.
The Cosmic Jibaros blend Latin and Caribbean rhythms, rock guitars and global influences cross-cultural music that's danceable,and hypnotically magnetic. Primarily sung in Spanish by Reyes, the songs are laced with social and political overtones, and energized by the pulse of congas, timbales, and effects-laden guitar work.
Louis Colavecchio passed away on July 6, 2020, at the age of 78, just weeks after a compassionate release from federal prison:
https://www.nytimes.com/2020/07/13/us/louis-colavecchio-dead.html
So long, Louis:
YOU THOUGHT IT WAS MORE. Louis Colavecchio, with Franz Douskey & Andy Thibault is now available for purchase at the library ($27.00). Part of the proceeds will benefit the Morris Public Library.
Background / links for Louis the Coin presentation
Rick Reyes Music
Facebook
https://www.facebook.com/pages/category/Musician-Band/Rick-Reyes-Music-93202148170/
Book website
https://louisthecoinbook.com/
Preview of the event: The Lisa Wexler Show
Jerry Longo interview, Ray Dunaway Morning Show on Louis the Coin 12-12-19 https://youtu.be/6AXSkXuBmYo via @YouTube
WVOX Westchester host Mathew Mari takes deep dive into Louis the Coin book https://youtu.be/igwwKoqWGOg via @YouTube
Louis video:
The whole idea behind it was to be like a tax collector [for casinos] https://youtu.be/oaFGdVAgZjU via @YouTube
Rather than hit a casino for $2 or $3 million
Louis the Coin book supports restoration of 1941 Ford patrol car at CT State Police Museum
http://cooljustice.blogspot.com/2020/01/louis-coin-book-supports-restoration-of.html
CT State Police Museum
Museum Facebook
https://www.facebook.com/pages/Connecticut-State-Police-Museum-and-Education-Center/128006020672566
Louis the Coin Facebook
Louis Twitter