Detective Who Arrested Louis The Coin And Journalist Who Co-Authored Coin's Memoir To Present at Morris Public Library, Oct. 6, 2020, at 6:30 pm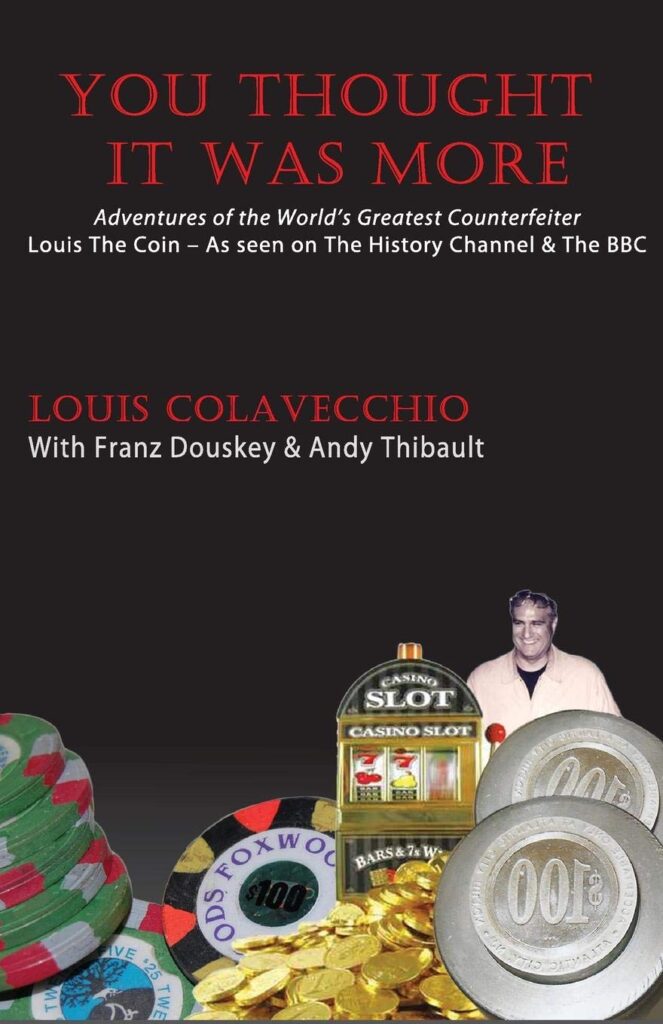 Connecticut State Police Detective Sergeant (Retired) Jerry Longo and journalist Andy Thibault will discuss the career and memoir of Louis the Coin Colavecchio Tuesday, Oct. 6, 2020 at 6:30 p.m. at the Morris Public Library, 4 North St., Morris, CT
It is hoped that Colavecchio will also be able to attend.
Colavecchio, 78, had pleaded guilty to creating counterfeit $100 bills at his apartment in Pawtucket, RI.
Longo had arrested Colavecchio in a prior case in which The Coin had manufactured and used undetectable $100 slot machine tokens at casinos in Connecticut, New Jersey and Nevada. They subsequently became friends and appeared together at Gateway Community College in New Haven and Western Connecticut State University in Danbury.
Update – A federal judge in Providence on Wednesday, May 20, 2020 reduced Louis Colavecchio's sentence to time served, but said he must remain in custody until an appropriate release plan is in place.
https://www.rep-am.com/news/news-connecticut/2020/05/21/notorious-counterfeiter-chronicled-by-local-author-compassionate-release2/
Thibault, city editor for the Republican-American in Waterbury and a private investigator, collaborated with Colavecchio and Gateway Professor Franz Douskey to write the memoir, "You Thought It Was More – Adventures of the World's Greatest Counterfeiter, Louis The Coin."
Longo wrote the book's introduction. He is now a senior investigator for a major casino and chairman of the Connecticut State Police Museum in Meriden. A portion of royalties from the memoir is being donated to the restoration of a 1941 police cruiser at the museum. Direct donations can be mailed to: CSPAAAMEC P.O. Box 1945 Meriden, CT 06450-0899 Notation: Garage or 41 project.
To register for the event with the Library: 860-567-7440 or https://morrispubliclibrary.net/library-calendar-event-registration/
Background / links for Louis the Coin presentation
Book website
https://louisthecoinbook.com/
Jerry Longo interview, Ray Dunaway Morning Show on Louis the Coin 12-12-19 https://youtu.be/6AXSkXuBmYo via @YouTube
WVOX Westchester host Mathew Mari takes deep dive into Louis the Coin book https://youtu.be/igwwKoqWGOg via @YouTube
Louis video:
The whole idea behind it was to be like a tax collector [for casinos] https://youtu.be/oaFGdVAgZjU via @YouTube
Louis the Coin book supports restoration of 1941 Ford patrol car at CT State Police Museum
http://cooljustice.blogspot.com/2020/01/louis-coin-book-supports-restoration-of.html
CT State Police Museum
Museum Facebook
https://www.facebook.com/pages/Connecticut-State-Police-Museum-and-Education-Center/128006020672566
Louis the Coin Facebook
Louis Twitter