"Into the Thin, A Pilgrimage Walk Across Northern Spain," with author Stephen Drew, Thursday, June 3, 6:30 PM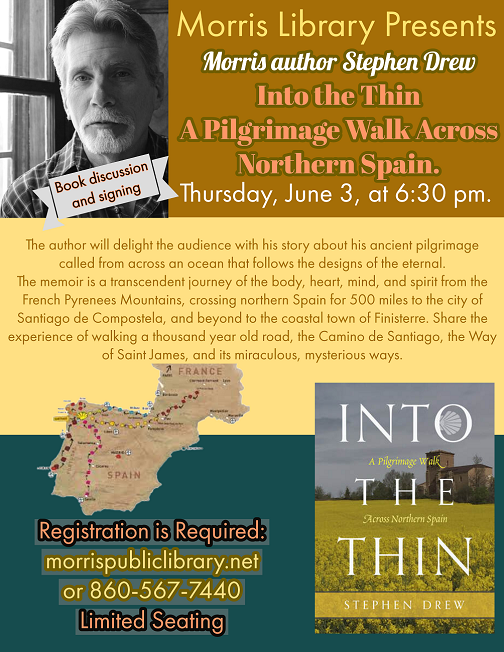 Join Morris author Stephen Drew at the Morris Public Library on Thursday, June 3, at 6:30 pm for discussion and signing of his first published work, the memoir titled Into the Thin, A Pilgrimage Walk Across Northern Spain (September, 2020 from Homebound Publications).
The author will indulge the audience with his story about his ancient pilgrimage called from across an ocean that follows the designs of the eternal.
The memoir is a transcendent journey of the body, heart, mind, and spirit from the French Pyrenees Mountains, crossing northern Spain for 500 miles to the city of Santiago de Compostela, and beyond to the coastal town of Finisterre. Share the experience of walking a thousand year old road, the Camino de Santiago, the Way of Saint James, and its miraculous, mysterious ways.

Stephen Drew lives in the northwestern Connecticut town of Morris, a bucolic community that surrounds Bantam Lake. He moved there after a period of personal loss and tragedy, searching for peace and simplicity; a place to collect himself. Author practices daily walking, mostly on the roads and paths around Bantam Lake. Hiking here and elsewhere serves as a centerpiece of contemplative living and a connection to Source.
Registration is required, limited seating: 860-567-7440 or https://morrispubliclibrary.net/library-calendar-event-registration/
If registering online, please wait for an email confirming your registration.