"Tails and Tales" Summer Reading Program for all ages, June 22 – August 19, 2021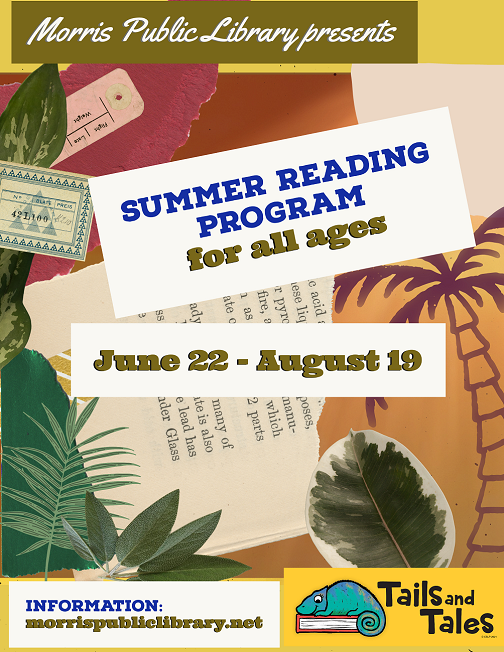 The Morris Public Library offers "Tails and Tales" Summer Reading Program for all ages
The Morris Public Library offers "Tails and Tales" Summer Reading program for all ages and reading levels from June 22 through August 19.
Each reading level has their own Summer Reading activity card to participate in the program. Students (Grades PreK- 5) count the number of tales read, teens (Grades 6-12) and adults curiously enjoy reading as many interesting tales as they can find!
The participants will be able to enter to win one of our Finale prizes upon submitting their completed card.
No registration is required – obtain your card at the library or download it from the website https://morrispubliclibrary.net (all levels!), starting June 22.
Details: 860-567-7440, https://morrispubliclibrary.net
Download cards here:
Childrens-Card-PreK-5-Part-1

Childrens-Card-PreK-5-part-2

Teens-Card-Grades-6-12-Part-1

Teens-Card-Grades-6-12-Part-2

Adults-Card

We follow CT Governor's Summer Reading Challenge suggested reading:
GradesK-2_2021_Summer_Reading-1

Grades3-4_2021_Summer_Reading

Grades5-6_2021_Summer_Reading

Grades7-8_2021_Summer_Reading

Grades9-12_2021_Summer_Reading