Herbal Survival Kit Workshop, with Grounded Goodwife, Velya Jancz-Urban and Ehris Urban, Tuesday, November 9, 6:30 PM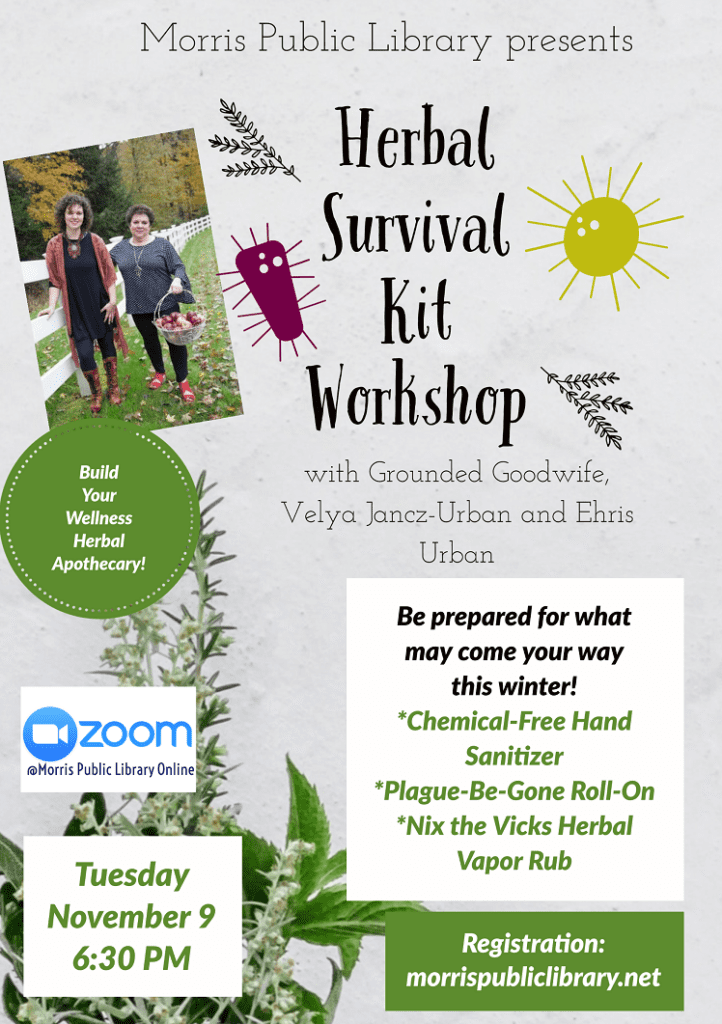 Velya Jancz-Urban and Ehris Urban, Grounded Goodwife, will present the Herbal Survival Kit Workshop with the Morris Public Library Online, via Zoom, Tuesday, November 9, at 6:30 p.m.
Registration is required with the library: https://morrispubliclibrary.net/library-calendar-event-registration/ or 860-567-7440.

Herbal Survival Kit – Be Prepared For What Comes Your Way This Winter!
The Grounded Goodwife will introduce 3 natural, effective DIY remedies to dropkick a winter bug before it even takes hold (or at least shorten its duration): Chemical-Free Hand Sanitizer, Plague-Be-Gone Roll-On, Nix the Vicks Herbal Vapor Rub.
Since time began, plant medicine – the science of using herbs and natural remedies – has been the world's primary form of promoting health and treating illness. You can stay healthy when everyone around you gets sick! Antiviral herbs/ingredients, along with a strong immune system, can make all the difference. Build your wellness herbal apothecary, breeze through the winter, and be ready to enjoy spring!
Bios:
Ehris Urban, owner of Woodbury, CT's Grounded Holistic Wellness, believes, "if you're grounded, you can navigate even the bumpiest roads in peace." She grew up in a family passionate about holistic medicine. Ehris is a green witch, herbalist, holistic nutritionist, and graduate of the New England School of Homeopathy. Additionally, Ehris is a Flower Essence Therapy practitioner Ehris is also a certified Ingham Method reflexologist. A graduate of Western Connecticut State University with a B.A. in Anthropology/Sociology, she is also a certified ESL teacher.
Velya Jancz-Urban lives her life by the adage, "there is no growth without change." Zany and gregarious, she is a teacher, author, former Brazilian dairy farm owner, and herstory unsanitized expert. Moving into a 1770 Connecticut farmhouse ignited Velya's obsession with the colonial era, and led to her entertainingly-informative presentation, The Not-So-Good Life of the Colonial Goodwife. Velya has a few too many rescue dogs and cats, is happiest with a fresh stack of library books, loves thrift shops, and is passionate about alternative medicine.