Welcome to the Morris Public Library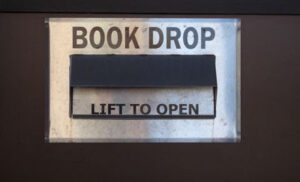 We accept your book/DVD returns,
outside book drop only
- just place them in our book drop. We will be emptying the drop every other day (to allow the 24-hour material quarantine time, per CDC) and will also clean the materials afterwards, as always.
The Morris Public Library will be CLOSED on Saturday, July 4, 2020.
We are OPEN regular hours the rest of the week,
Tuesday-Wednesday 10 am to 8pm,
Thursday-Friday, 1 pm to 8 pm
The Morris Public Library is open to the public with the following restrictions and temporary guidelines:

We request patrons observe the following temporary guidelines:
Wear a face mask in the building
Use a hand sanitizer upon entering the library (provided)
Maintain social distancing of at least 6 feet
Maximum number of patrons at the library - 5 (five)
Limit your Library visit to 15 minutes, 1 per day
Materials checkout - place the materials on the folding table, a staff member will check them out and place them back on the table
Materials return - return in the book drop outside only
Only one computer will be available for use (15-minute limit), copies can be made/printed
No extended stays are permitted, no meeting in the library or the Reading Room
No technology assistance sessions will be offered at the time
All programming has been moved to digital
Call 860-567-7440 with questions.
Please use the front entrance at 4 North Street to access the library.
If you need the elevator, please ring the bell on the Community Room door, and a staff member will be right down to assist you.
Thank you!
Join us on Facebook Live for Story Time Online on Tuesdays, at 10 am.We will sing songs, say rhymes, read amazing books!Mark that you are going - and you will receive reminders for the event.We are going LIVE promptly at 10 am, on Tuesdays!Morris Public Library's Facebook Page – CLICK HERE. Video Link to Story Time Online on July 7: https://www.facebook.com/morris.library.ct/videos/4062763613765885/
Read More

→
Constant Contact Newsletter
Sign up for our Constant Contact newsletter - upcoming events, new services, and other updates.
We have computers available to the public and
now we have WiFi service, so bring your laptop and go online anywhere in the library.
You can request materials from other Connecticut Libraries from home or at the Library. One of our Librarians will assist you. Return any books borrowed from other libraries here in Morris.